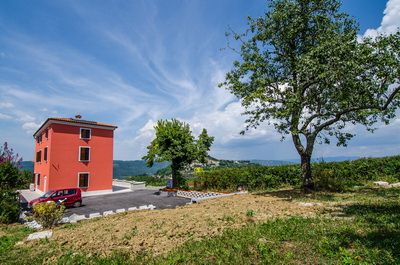 In the very heart of Istria, under the elevated town of Motovun, in between the grapevine fields lies Casa Rossa. An old rustic house that derives from 1910, it has been renovated and modernised in 2018 and has been adjusted to accustom all the needs of modern-day tourism. Situated right on the road that connects Karojba and Motovun it offers a pleasant accommodation, as well as a glass of quality homemade vine and a bite of the local cuisine to every passenger who stops by. A selection of small autochthonous places filled with historic sights and cultural happenings awaits in the near proximity of the house. We can not stress enough the top-notch gastronomic selection and a quality vine list.
Motovun is a well-known vacation location, and besides sightseeing it also offers reputable manufacturers of vine and oil, but also fruit and honey. Nearby you can find tourist destinations: Groznjan, Oprtalj, Hum, Porec and Novigrad. The famous cycling route "Parenzana", the path of health and friendship, passes right by the house. Casa Rossa is an ideal accommodation regardless of whether you are traveling with your family, your better half or with your friends. The comfort of rooms, proximity to caterers, gas station, bank and a currency exchange office along with the peaceful and natural ambient will ensure you a quality vacation.
Casa Rossa offers 8 rooms with private bathrooms and air conditioning along with a beautiful view of Motovun. The we offer a choice between single or double bedrooms, and for your vehicles we ensure a parking. Hospitality, approachability and professionalism of our staff will make your vacation even more enjoyable.
Visit us in the heart of Istra.
---
Trough the next few pictures we will try to demonstrate the beauty of the Istrian scenery as well as the selection of our rooms.
The breath-taking view of Motovun will make your vacation priceless.
Enjoy the benefits of Istrian vineyards and the untouched nature.
---